Racing is great, and it would be even more awesome if we can use our hobby to help out a good cause. If you're familiar with the Susan G. Komen for the Cure , they're are extremely passionate on the fight against breast cancer.  They are the global leader of the breast cancer movement, having raised more than $1.9 billion since inception in 1982 with their goal being saving lives, empowering people, ensure quality care for all and energize science to find the cures. This organization couldn't have done it alone with out the help of dedicated people that believe in this cause and contribute with either a donation or volunteer their time at charity events. Here's your chance to step up and help out a noble cause, while at the same time having a blast racing! Try and make it out October 6th to SDRC Raceway and lets find a cure! – Joel Navarro.
.
Don't worry if you cant make it to this event, you can still donate at the official Susan G. Komen for the Cure website. Here's the link…
.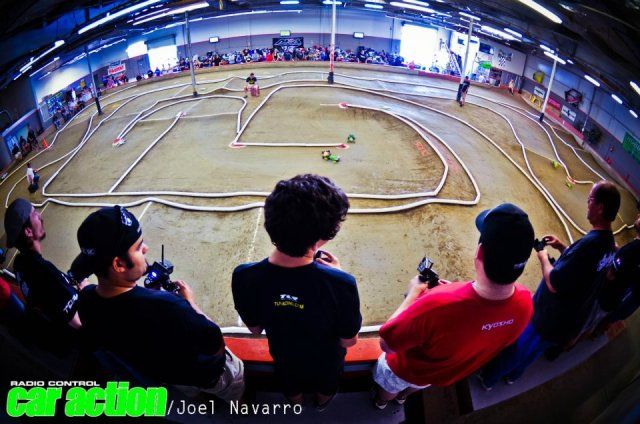 The view from the drivers stand at SDRC Raceway (www.sdrcraceway.com) , the largest indoor RC track in Southern California.
.
This is what the racing is like at SDRC Raceway! This video is from the recent Top Gun Shootout race.

.
$40.00 per class & $25.00 for 2nd class
raffle prizes….
Raffle ticket with every entry. Additional tickets for sale for $1.00 ea or 6 – $5.00.
B.b.q. for breakfest, lunch and dinner
All proceeds from raffle and b.b.q. Go to susan g. Komen for the cure.
Track opens @ 6:00AM for practice
• racing starts @ 10:00am 3 rounds of qualifing
• mains to follow
• winners in lower mains will bump up
• minimum of 6 cars to make a class
trophies for 1st, 2nd and 3rd place in the a-mains.
.
THIS YEARS TROPHIES WILL BE HAND MADE PLAQUES.
.
WE WILL HOLD ANOTHER CONCOURSE THIS YEAR.
.
Classes being ran at this event…
NOVICE 2WD
NOVICE 4WD
STOCK BUGGY
MOD BUGGY
EXPERT MOD BUGGY
STOCK TRUCK
MOD TRUCK
EXPERT MOD TRUCK
4WD BUGGY
2WD SHORT COURSE
PRO-2WD
4WD SHORT COURSE
PRO-4WD
1/8 BUGGY
1/8 EXPERT BUGGY
.
A HUGE thank you to all of the sponsors of this event! (More sponsors will be adding soon…)
AKA TIRES – TTN (TEAM TUCK NASTY) – EYPTSEAN PRODUCTIONS – HOBBIE CO – CASTLE CREATIONS – VIPER R/C – PARMA/PSE – SPY SUNGLASSES – MAXIMA RACING OILS – JCONCEPTS – E.K.D. PAINTS – LIMITED ACCESS RACING – COW R/C – SOCAL-RC.COM